Our Team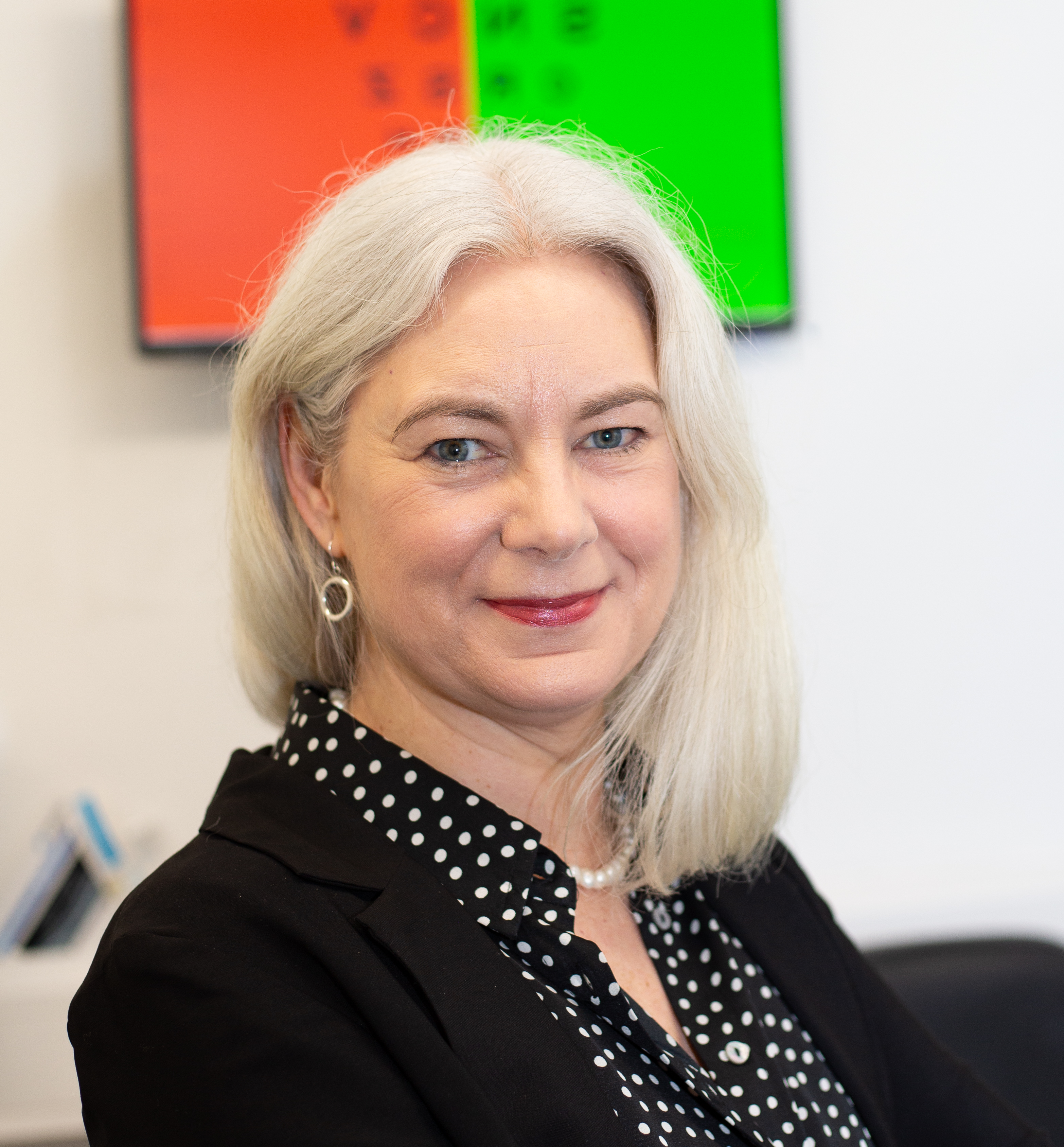 Lisa Mc Keever -White -
BSc.( Hons), MCOptom. -

Optometrist

Lisa, a native of County Armagh, graduated with an Honours degree in Optometry from City University, London in 1991. After a Pre-Reg year with Dollond and Aitchison she qualified as an Optometrist in 1992. The first ten years of her career were spent in North East of England mainly working at the Eye Clinic a pioneering Contact Lens practice in Newcastle upon Tyne. She moved back to Ireland in 2001 to join our Sligo Practice. She

A busy mother of two, she is a taxi driver for her sons who are avid sportsmen and musicians. When not ferrying them around she enjoys cycling, gardening, walking the family dog and going to music gigs.

Lisa has a special interest in Contact Lenses, Diabetes and the Ageing Eye.
---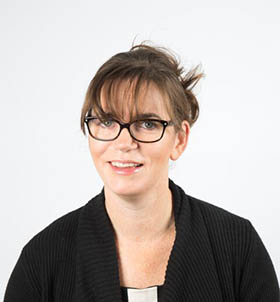 Rhona Guckian Cleary,
BSc., MCOptom, ABOC.

-

Optometrist

Rhona, a native of Sligo, graduated with a degree in Optometry from City University, London. She worked in the contact lens department in Moorfields, private practice in London and as a volunteer in Jamaica, Uganda and The Gambia before returning to Sligo.

She works seasonally in Sligo and Tubbercurry, spending the rest of her time in Los Angeles where she teaches optical dispensing to future opticans.

As a youth soccer referee and a pilot in her spare time, Rhona requires excellent eyesight and is acutely aware of the importance of quality vision correction. She also has a special interest in specific learning difficulties and dry eyes.
---
Catherine Brennan

,
BSc., MCOptom.

-

Optometrist

Catherine graduated with an honours degree from university of Ulster, Coleraine in 2005. She qualified as an optometrist in 2006 following her pre-registration year in private practice in London where she worked in Harley street and North London. She gained experience working in many different types of practice, in the UK and Ireland, before joining the practice in 2013.

Catherine has a keen interest in sport and enjoys spending her free time with her two children Sarah and Amy.

Catherine has a special interest in myopia control, contact lenses and post cataract eye assessment.
---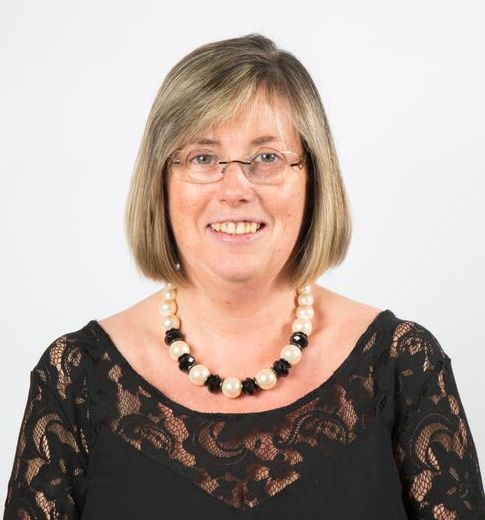 Rufina Mc Dermott - Practice Manager
Rufina, a native of Doocastle, Ballymote has over 30 years experience working in the optical industry. Rufina is well known for being able to pick a perfect frame to suit not just your face but your personality.
Over her many years she has gained a wealth of knowledge in lens materials, lens designs, lens treatments and coatings as well as frame materials and fitting. As the area of progressive lens design is contantly changing Rufina is the best person to ask advise on the best option for you.
---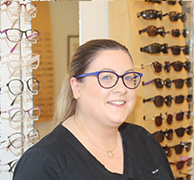 Louise O Dowd - Optical Assistant and Lab Technician
Louise trained as a chef in Athlone I.T and worked in many kitchens and deli's since. Wanting a change she started working in Pharmacy in 2011 and qualified as an OTC (over the counter) Assistant during that time.
Louise joined the team at Mulreanys in April 2018, started formal training with the Association of British Dispensing Opticians just before the lockdown in 2020 and completed the Optical Assistant course in August 2020.
She is has completed training in Dry eyes solutions and treatments and is responsible for the operation of the glazing lab on site.

In her spare time Louise loves spending time with her nieces and nephews.
---
Evelyn Kennedy - Optical assistant
Evelyn has over 5 years experience in optics and is always available to help you choose your new frames. She can also advise you on the best lenses and lean coatings.
Evelyn has been part of the team in Tubbercurry since 2016 after many years experience in customer service all over the world. She decided she likes the west of Ireland best of all.
---
Join our Team
Are you an experienced optometrist seeking a change of pace from the fast-paced commercial environment? Would you like to work in a serene clinical setting that prioritizes patient care and offers greater flexibility in terms of holidays and time off? Look no further! Mulreany Guckian Optometrists are seeking a talented optometrist to join our team and enjoy a more relaxed and fulfilling career. We are offering the option for part-time or full-time employment.
Requirements:
• Coru Registered Optometrist
• Proven experience as an optometrist, preferably in a commercial setting
• Proficiency in conducting comprehensive eye examinations and diagnosing eye conditions
• Strong knowledge of ocular diseases, vision correction, and contact lens fitting
• Excellent interpersonal and communication skills to build rapport with patients and team members
• Detail-oriented with the ability to maintain accurate records
• Demonstrated commitment to providing exceptional patient care


Join our team and rediscover the joy of practicing optometry in a calm and supportive clinical setting. If you are passionate about delivering exceptional eye care, and you value work-life balance and flexibility, we would love to hear from you.
To apply, please send your resume, cover letter, and any additional supporting documents to Careers@mulreanyopticians.ie. We are excited to review your application and potentially welcome you to the Mulreany Guckian family.
Note: Only shortlisted candidates will be contacted for interviews. Thank you for your understanding.

A little on our history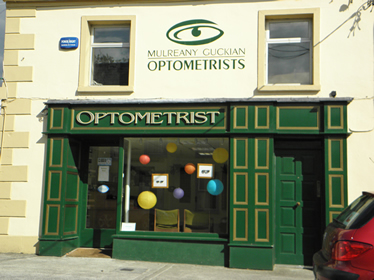 Mulreanys pharmacy and Opticians was established around 1935 by Michael J. Mulreany MPSI, FAOI. It was located on Wine Street in Sligo, across the road from Lyons Department store. The optical suite was above the pharmacy. Eye examination and spectacle dispensing were the main activities but Mr Mulreany also fitted prosthesis.
Geraldine Mulreany MPSI FAOI, his daughter, took over the running of the pharmacy, in 1964, together with her husband Thomas P. Guckian BSc., MPSI.
In 1975 the optical practice moved from its Wine Street location to consulting rooms at The Mall where there was greater space and Geraldine could keep an eye on her children. She started fitting contact lenses in 1979. In 1983 it moved back to Sligo town centre but this time above the new relocated Mulreanys Pharmacy in the old Cafe Cairo buildings further along Wine Street. The street level reception you see today was first opened next to the pharmacy in 1995 and in 1997 the running of the practice was taken over by Rhona Guckian BSc. MCOptom., grandaughter of the founder.
2004 saw the establishment of Mulreany Guckian Optometrists in Tubbercurry now in Humbert St., beside Teach Laighne.
Rufina Mc Dermott who is the practice manager in Sligo celebrated 30 years with the practice in May 2014.